Name on Memorial
R. GEE
actual name
BERTRAM BRIERCLIFFE
GEE
Private 2539
1st /4th Battalion
Royal Berkshire Regiment
Died 10th December 1916
Aged 37
Commonwealth War Graves Commission
In Memory of
Private R.B.GEE
2539, 1st/4th Bn., Royal Berkshire Regiment
Who died
On 10 December 1916
Remembered with Honour
DERNANCOURT COMMUNAL CEMETERY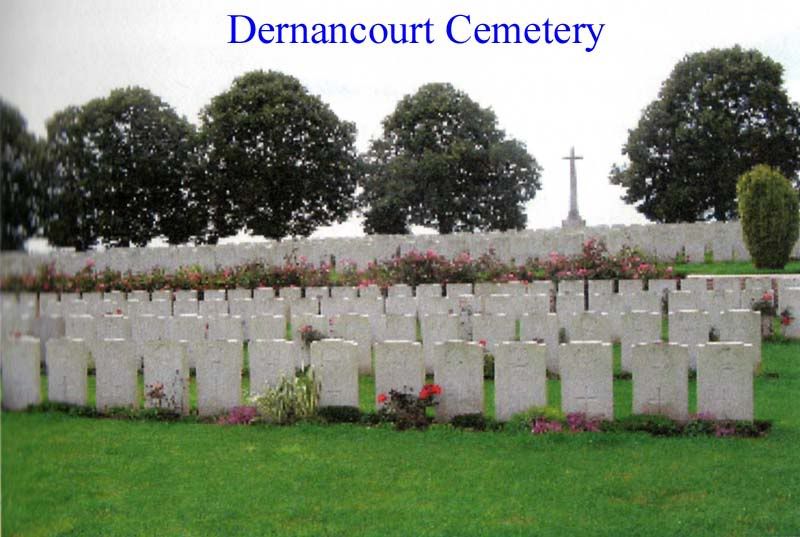 Initial research by Mrs. Lynn Enston
The Family's Story by Mrs Jenny McBride
The Story of Two Brothers
ARTHUR COOKE GEE - father
In 1876 Arthur Cooke Gee, born 1852, married Evelina Briercliffe, born 1855, in Bolton, Lancashire.
In the 1881 census the family were living in Kearsley, near Bolton, Lancashire.
Arthur, aged 29, was working in the cotton mill. Evelina was aged 25 and at home.
They appear to have been comparatively well off as they had a general servant, a baby nurse and a ladies nurse and they had three children. Robert Briercliffe Gee, their eldest son aged 3 ( birth registered as Bertram not Robert) Arthur Giles Gee aged 2
and their daughter Marion, aged 21 days and unnamed at that time.
In 1891 the family had moved to the upmarket coastal resort of St. Anne's near Blackpool, Lancashire. Both boys were being educated at the local boarding school.
Their mother died in 1894 when Robert was aged 16 and Arthur was aged 15.
ROBERT BRIERCLIFFE GEE Bertram (Robert) Briercliffe Gee, listed on the censuses of 1881 and 1901 as Bertram, was born in the March quarter of 1877 in Kearsley, Bolton, Lancashire.
In the 1901 census Robert was listed as an 11 year old juvenile (child).
the 1911 census shows him still living in Bolton. There is a marriage record for the someone with the same unusual name in Kings Norton, Birmingham in 1898 and in the 1911 census Robert is married but boarding in Bolton. No records have been found either for births of children nor death of his wife.
Some time between 1911 and 1914 Robert came to live in Carterton with brother Arthur.
We know he joined the 1st / 4th Battalion of the Royal Berkshire Regiment and died on the 10th of December 1916, aged 37.
ARTHUR GILES GEE
Arthur was born in Kearsley, Bolton, Lancashire 1879. He later moved south to Carterton and became a fruit grower.
1911 was an eventful year for Arthur. In the census he was still growing fruit but was also an Income I ax Collector aged 32.
I le married Ellen Leah Widdowson in the `;eptember quarter of that year. The marriage was registered at Witney.
I lien was born in 1891. She and her two younger sisters, Dorothy and Flora, were all registered in Witney.
Also in the 1911 census, Arthur senior was widowed and living in Billericay, Essex.
He came to Carterton later that year and died during the October to December months, aged 59 years.
In the Carterton trade directory of 1916 Arthur is still listed as a fruit grower but may have then been called up or enlisted.
Alternatively he may have gone back to Bolton or just moved away from Carterton.
Town Hall archives show that he sold out his business to a Mr. Humphries during 1916.
Possibly the loss of his brother affected him and it seems his marriage had broken down. There are no records of children so he had no reason to stay in Carterton.
His wife however appears to have moved to Devizes and remarried. Between October and December 1916 there is a marriage of an Ellen L. Gee to a Bertie Reeves in Devizes, Wiltshire.
The death of an Arthur G. Gee , with the correct age, was recorded in Oxford in 1942. Did Arthur move just a few miles away from Carterton which held so many bad memories?
Only the 1921 census will provide the answer but that will not be made available until 2021.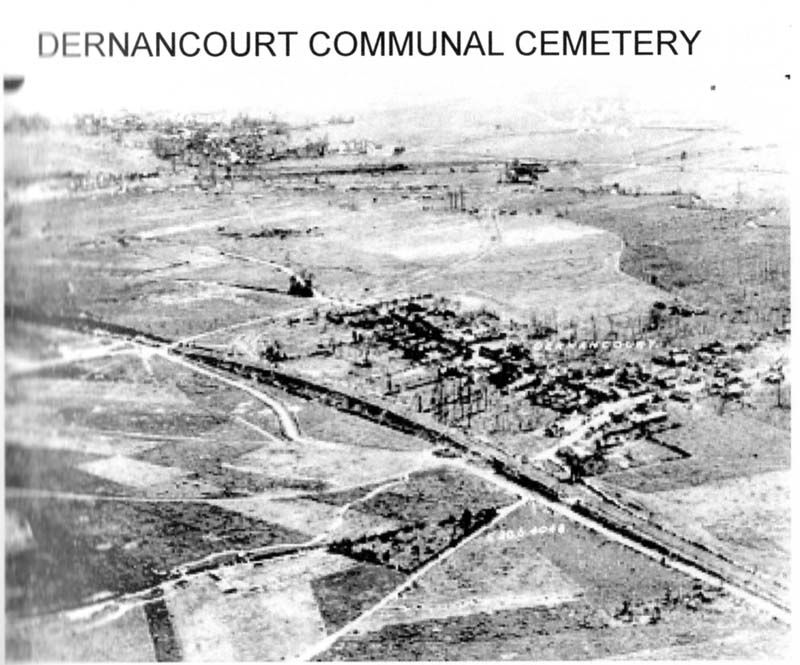 Country: France
Dernancourt is a village 3 kilometres south of Albert. The Communal Cemetery is a little west of the village, and the Extension is on the north-west side of the Communal Cemetery.
Historical Information: Field ambulances used the Communal Cemetery for Commonwealth burials from September 1915 to August 1916, and again during the German advance of March 1918.
It contains 127 Commonwealth burials of the First World War. The XV Corps Main Dressing Station was formed at Dernancourt in August 1916, when the adjoining EXTENSION was opened.
The 45th and 56th (1st/1st South Midland) Casualty Clearing Stations came in September 1916 and remained until March 1917. The 3rd Australian was here in March and April 1917, and the 56th from April 1917 to February 1918.
The 3rd Casualty Clearing Station came in March 1918 but on 26 March, Dernancourt was evacuated ahead of the German advance, and the extension remained in their hands until the village was recaptured on 9 August 1918 by the 12th Division and the 33rd American Division.
In September it was again used by the 47th, 48th and 55th Casualty Clearing Stations under the name of "Edgehill", due to the rising ground on the north-west. At the Armistice, the Extension contained more than 1,700 burials;
It was then enlarged when graves were brought in from isolated positions in the immediate neighbourhood and certain small cemeteries, including:- MOOR CEMETERY, EDGEHILL, DERNANCOURT, was about 800 metres West, near the top of the hill.
It contained the graves of 42 soldiers from the United Kingdom who fell on the 23rd-25th March, 1918.
The extension now contains 2,162 Commonwealth burials and commemorations of the First World War.
INFORMATION FROM THE INTERNET FREE BMD—Parents of Bertram and Arthur
Births Mar 1852
GEE Arthur Cooke Bolton 8c 183
Births Sep 1855
Briercliffe Evelina Bolton 8c 176
Marriages Sep 1876
Briercliffe Evelina Bolton 8c 496
Gee Arthur Cooke Bolton 8c 496
Deaths Mar 1894
Gee Evelina 38 Barton I. 8c 381 Barton on Irwell ( River Irwell) Lancashire 1911 CENSUS his father was living in Essex. GEE ARTHUR C M 1852 59 Billericay Essex
FREE BMD
Deaths Dec quarter1911
Gee Arthur C 59 Witney 3a 1115
BERTRAM BRIERCLIFFE'S RECORDS
Marriages Mar 1898
Gee Bertram Briercliffe King's N. 6c 572 Tacey Louise King's N 6c 572
1911 CENSUS
GEE, Robert Briercliffe Boarder Single M 24 1887
Fitter Lancashire Kearsley
GEE, Bertram Briercliffe Boarder Married M 33 1878 Insurance Agent Lancashire Kearsley
1881 CENSUS Kearsley, Lancashire
Auther Cooke GEE Head M Male 29 Kersley, Lancashire, Cotton Manufacture Evelena GEE Wife M Female 25 Kersley, Bertram B. GEE Son Male 3 Kersley, Auther Giles GEE Son Male 2 Kersley, Baby GEE Daur Female 21 d Kersley,
Emily HALL Servant U Female 17 Hadley, Shropshire, England General Sery Sarah WILLIAMS Sery U Female 22 Wimslow, Cheshire, Nurse Sery
Marey COLLIS Sery M Female 45 Asterland, York, England Ladies Nurse Dwelling Manchester Rd Highfield House Kearsley, Lancashire, England
1891 CENSUS
GEE, Arthur C Head Married M 39 1852 Cotton Spinner Manufacturer Kearsley Lancashire GEE, Evelina Wife Married F 35 1856 Kearsley Lancashire
GEE, Marion E Daughter F 6 1885 Scholar Kearsley Lancashire
GEE, Robert B Son M 4 1887 Kearsley Lancashire
ALLCOCK, Ann J Servant Single F 18 1873 General Domestic Servant Nantwich Cheshire Registration District:Fylde Sub District:Parish:St Annes on the Sea
Address: Stanley Villas, St Annes Road East, Lytham, St Annes On The Sea County: Lancashire
ARTHUR GILES GEE RECORDS
FREE BMD
Births Mar 1879
Gee Arthur Giles Bolton 8c 323 (Lancashire) 1911 CENSUS
GEE, Arthur Giles Head Single M 32 1879 Fruit Grower Lancs. Kearsley
Brize Norton Road Carterton Black Bourton Clanfield Oxon
Births Dec 1891
Widdowson Ellen Leah Witney 3a 852
Births Mar 1894
Widdowson Dorothy May Witney 3a 895
Births Mar 1898
Widdowson Flora Witney 3a 921
Marriages Sep 1911
Gee Arthur G Witney 3a 2487 (age 30) Widdowson Ellen L Witney 3a 2487 (age 20
In the1911 census Arthur was still growing fruit and Income Tax Collector aged 32. In 1916 he was still listed as a fruit grower but Town Hall al( hives show that he sold out his business to a Mr Humphries during that year. There is no listing for AI Arthur in the Commonwealth War Graves websiteI le may have returned to his roots in Bolton Lancashire or stayed in Oxfordshire which lists his death Oh of the correct age and name.
Deaths Mar 1942
Gee Aurthur G 63 Oxford 3a 2735
These sites cover the ox18 area of Oxfordshire England, including the following villages, OX18, Alvescot, Bampton, Black Bourton, Burford, Broadwell, Carterton, Clanfield, Kelmscott, Kencot, Langford, Lechlade, RAF Broadwell, Shilton, Parish Pump, Oxfordshire Events,