Sergeant
DUANE 'Baz' BARWOOD
attached to
903
Expeditionary Air Wing,
Royal Air Force,
tragically died on
Friday 29 February 2008
Age 41
DUANE "Baz" BARWOOD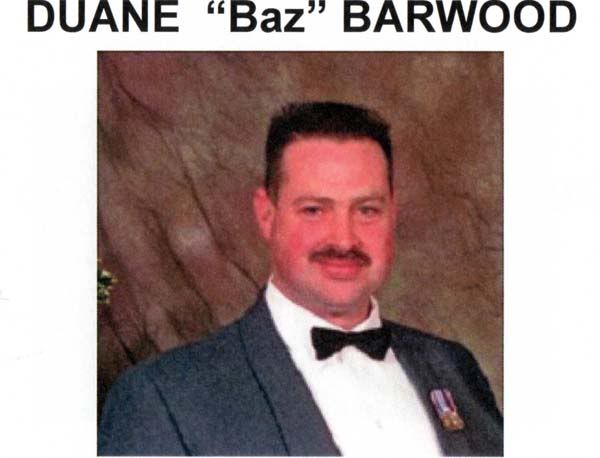 Duane Ian Barwood was born on the 25th of March 1966 in Gillingham, Kent.
He joined the RAF Regiment in 1985 at the age of 19 where he trained as a "gunner".
The Royal Air Force Regiment (RAF Regt) is a specialist airfield defence Corps founded by Royal Warrant in 1942. After a 29 week trainee gunner course its members are trained and equipped to prevent a successful enemy attack in the first instance; minimise the damage caused by a successful attack; and ensure that air operations can continue without delay in the aftermath of an attack. The RAF Regiment is trained in CORN (Chemical, Biological, Radiological and Nuclear) defence and equipped with advanced vehicles and detection measures. RAF Regiment instructors are responsible for training all Royal Air Force personnel in basic Force Protection, such as first aid, weapon handling and CBRN skills.
From 1986 to 1994 Baz was stationed at R.A.F. Bruggen in Germany involved in the Rapier
Missile Operations. Rapier is a British surface-to-air missile developed for the British Army and Royal Air Force. Entering service in 1971, it eventually replaced all other anti-aircraft weapons in Army service;
During this time he also made a number of duty tours to the Falklands with the joint protection force following the Argentinian invasion and war of 1982. Serious leg injuries in 1991, as a result of an accident while on duty, caused him to remuster. Remuster is military slang for being assigned to other duties. Conserquently, determined to remain an active serving officer, Baz was reassigned as a Motor Transport driver. He was also a service instructor for Air Traffic Control and taught Field Craft and supported weekend camps and expeditions.
Baz was killed by a rocket attack on the air Base in Basra, Iraq on Friday the 29th of February 2008. He was buried on the 19th of March 2008 at the Military Cemetery of St. Peter's, Little Rissington. The previous month, his bravery during another rocket attack had been honoured with a Personal Commendation from his commanding officer. At the time of his death he was due to become a recruit trainer at RAF Halton in Buckinghamshire.
He had been based at RAF Brize Norton in Oxfordshire and his commanding officer there, Group Captain Malcolm Brecht, paid tribute to him:
"Sergeant Barwood was an outstanding officer in every respect. An enthusiastic, loyal and dedicated member of the Royal Air Force, he was a willing volunteer for his tour of duty on Operations in Iraq. "A caring and diligent man, with a larger-than-life personality, Sergeant Barwood was admired and respected by all those he led.
As the Motor Transport Officer for the Airfield at Basra Air Station, Sergeant Barwood displayed natural leadership abilities, strong judgement and exceptional courage. He was a true professional."
Air Commodore Mike Harwood said: "It is obvious to me that he was one of those characters who translates our theoretical `core values' – respect, integrity, service and excellence."
Group Captain Mike Wigston, of the 903 Expeditionary Air Wing, who knew Sgt. Barwood well, described him as being an "outstanding officer" who was "loved by his people and respected by all" and also spoke of his "mischievous delight at solving the sort of unusual problems that are part of day-to-day life in Basra".
Baz also did voluntary work as a First Responder for the Ambulance Service based in Swindon.
He leaves behind his loving family: wife Sharon and two daughters, Leanna and Rebecca.
Special thanks to Sharon Barwood for her help in writing details of Baz's R.A.F. service and this final chapter of the book. Jenny McBride
These sites cover the ox18 area of Oxfordshire England, including the following villages, OX18, Alvescot, Bampton, Black Bourton, Burford, Broadwell, Carterton, Clanfield, Kelmscott, Kencot, Langford, Lechlade, RAF Broadwell, Shilton, Parish Pump, Oxfordshire Events,