JAMES WILLIAM
HUMPHRIE S
Royal Air Force
Volunteer Reserve
467 Squadron
Died 8th January 1943
Aged 21
Commonwealth War Graves Commission
In Memory of
Sergeant JAMES WILLIAM HUMPHRIES
1318034, 467 (R.A.A.F.) Sqdn, Royal Air Force
Volunteer Reserve
who died age 21
on 08 January 1943
Son of Archer W. and Mary E. Humphries,
of Carterton, Oxfordshire.
Remembered with honour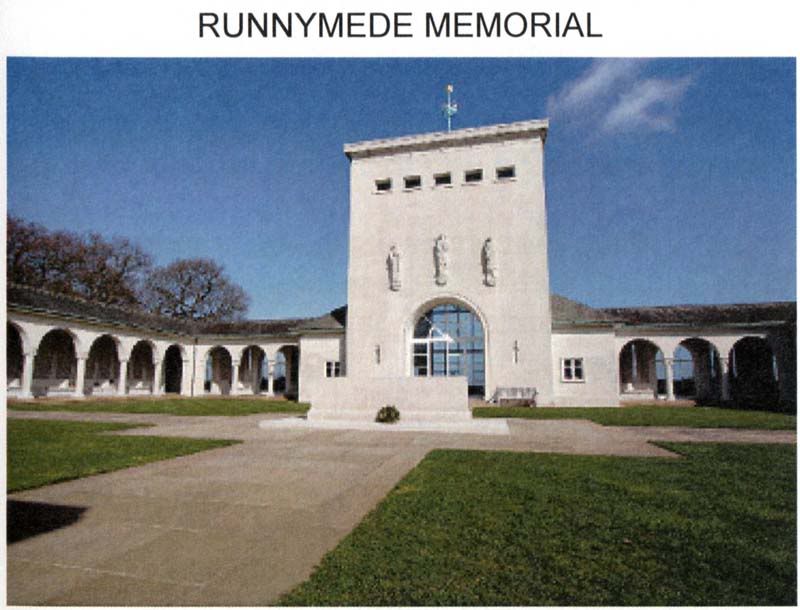 THE CLOISTERS AT RUNNYMEDE MEMORIAL
Research by Mrs Jenny McBride
JAMES WILLIAM HUMPHRIES
James Archer Humphries, born 1873, in Maisie Hampton, Gloucestershire, married Ellen Price, born in Hoo, Kent in 1883. Ellen presumably moved to Gloucestershire to work. The marriage was registered at Bradfield in the September quarter of 1896.
The 1901 census shows them living in Maisie Hampton with their son Archer William Humphries aged three. James is a gardener.
By 1911 the family had moved to Bampton, Oxfordshire. James is listed as a fruit grower. Archer is aged 13 and his job was "help in garden". Ellen's widowed mother had moved from Kent and was living with them.
Archer William Humphries, born 1897, and Mary Emily Jordan, born 1896, registered at Witney, married in the September quarter of 1920.
Archer and Mary had four known children. James William born 1921, Ernest born 1922, Joyce born 1923 and Robert born 1930.
In the 1931 Carterton Trade Directory the business was listed as James A. Humphries and Son (Archer William) of Frenchester, Fruit Grower and Nurseryman.
James William Humphries, born 1921, joined the Royal Air Force Volunteer Reserve.
Quote from the CWGC website:
"James Humphries was a Sergeant and a Lancaster Bomber Pilot
He died at the age 21
There are 22,000 missing airmen whose names we know but who have no graves."
He is just one of them
From the Commonwealth War Graves
website:
HUMPHRIES James William Sgt. M. U. G. 1236942 R.A.F.V.R.
Age 21
467 Squadron
died 8 Jan. 1943
Lancaster Mk 1 ED367 PO-H Target Duisberg No Known Grave
The Aviation Forum website—http://forum. keypublishing.co.uk/showthread.php?t=71607
8/9 January 1943 Duisburg — Bomb load 1 x 40001b and 12 SBC's. (short bomb cannisters)
43 aircraft bombed but no confirmation is available regarding the effects of the bombing from Duisburg's town records. Three of the aircraft dispatched failed to return.
The Air Forces Memorial at Runnymede commemorates by name over 20,000 airmen who were lost in the Second World War during operations from bases in the United Kingdom and North and Western Europe, and who have no known graves. They served in Bomber, Fighter, Coastal, Transport, Flying Training and Maintenance Commands, and came from all parts of the Commonwealth. Some were from countries in continental Europe which had been overrun but whose airmen continued to fight in the ranks of the Royal Air Force. The memorial was designed by Sir Edward Maufe with sculpture by Vernon Hill. The engraved glass and painted ceilings were designed by John Hutton and the poem engraved on the gallery window was written by Paul H Scott.
This Memorial overlooks the River Thames
on Cooper's Hill at Englefield Green
INFORMATION FROM THE INTERNET
FREE BMD Births Dec 1883
PRICE Ellen Emily Hoo 2a 538
Marriages Sep 1896
Humphries James Archer Bradfield 2c 659 Price Ellen Bradfield 2c 659
Births Dec 1897 FATHER
Humphries Archer William Cirencester 6a 351
1911 CENSUS
HUMPHRIES, James Archer Head Married M 38 1873 Fruit Gardener Glos Maisey Hampton HUMPHRIES, Ellen Wife Married 14 years F 45 1866 Kent Cliffe At Hoo
HUMPHRIES, Archer William Son M 13 1898 Help In Garden Glos Maisey Hampton
PRICE, Mary Mother In Law Widow F 82 1829 Parish:Black Bourton
Address: Burford Road Carterton Black Bourton Clanfield S 0 Oxon County: Oxfordshire
http:I/www.467463RAAFsQuadrons.com/L02Pgs/ ROH/467roh.htm
INFORMATION ON THE SQUADRONS—PLUS ROLL OF HONOUR
This Memorial overlooks the River Thames
on Cooper's Hill at Englefield Green
INFORMATION FROM THE INTERNET
FREE BMD Births Dec 1883
PRICE Ellen Emily Hoo 2a 538
Marriages Sep 1896
Humphries James Archer Bradfield 2c 659 Price Ellen Bradfield 2c 659
Births Dec 1897 FATHER
Humphries Archer William Cirencester 6a 351
1911 CENSUS
HUMPHRIES, James Archer Head Married M 38 1873 Fruit Gardener Glos Maisey Hampton HUMPHRIES, Ellen Wife Married 14 years F 45 1866 Kent Cliffe At Hoo
HUMPHRIES, Archer William Son M 13 1898 Help In Garden Glos Maisey Hampton
PRICE, Mary Mother In Law Widow F 82 1829 Parish:Black Bourton
Address: Burford Road Carterton Black Bourton Clanfield S 0 Oxon County: Oxfordshire
http:I/www.467463RAAFsQuadrons.com/L02Pgs/ ROH/467roh.htm
INFORMATION ON THE SQUADRONS—PLUS ROLL OF HONOUR
FREE BMD Births Mar 1896
Jordan Mary Ellen Witney 3a 893
FIND MY PAST Marriage Sept qtr 1920
Witney 3a 3122
HUMPHRIES Archer W. Jordan
JORDAN Mary E. Humphries
FREE BMD
Births Jun quarter 1921
Humphries James W (mother — Mary Jordan) Witney 3a 2095
Births Sep 1922
Humphries Ernest H Jordan Witney 3a 1896
Births Dec 1923
Humphries Joyce E Jordan Witney 3a 1700
Births Sep 1930
Humphries Robert G Jordan Witney 3a 1917
CARTERTON TOWN HALL ARCHIVES 1931 TRADE DIRECTORY
JAMES A. HUMPHRIES & SON FRENCHESTER
FRUIT GROWER/NURSERYMAN
Back
These sites cover the ox18 area of Oxfordshire England, including the following villages, OX18, Alvescot, Bampton, Black Bourton, Burford, Broadwell, Carterton, Clanfield, Kelmscott, Kencot, Langford, Lechlade, RAF Broadwell, Shilton, Parish Pump, Oxfordshire Events,