JOHN BRYAN WATSON
Leading Airman
FAA/JX. 394477
Royal Navy
H.M.S. Landrail
Died 19/07/1944
Aged 20Commonwealth War Graves Commission
In Memory of
Leading Airman JOHN BRYAN WATSON
FAA/JX. 394477,
H.M.S. Landrail, Royal Navy
who died age 20 on 19 July 1944
Remembered with honour
LEE-ON-SOLENT MEMORIAL
Initial research by
Mr Brian and Mrs Maxine Crossland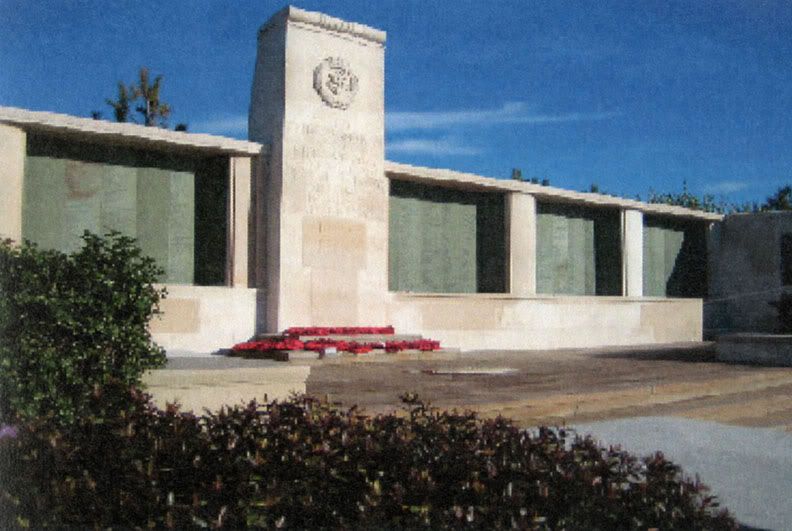 JOHN BRYAN WATSON
John L. Watson and Elsie Cook were married in Prestwich, Manchester in 1918.
They moved to Carterton about 1920. John ran a smallholding and collected rents for Witney Rural District Council. He was also listed in the 1931 Carterton Trade Directory as a poultry farmer.
Their only child, John Bryan Watson, was born in the March quarter of 1924 and registered at Witney, Oxfordshire. Like James Humphries and Harry Smith , he attended Carterton Primary school.
Bryan, as he was known, became a Leading Airman in the Royal Navy. After completing his air training in Canada he was posted to H.M.S. Landrail
The Watsons lived on Burford Road, opposite what is now Connolly Drive.
A school friend recalls how she and Bryan's girlfriend were cycling to school at Burford one morning in July, when a distraught Mr Watson ran out into the road waving a telegram at them which announced that Bryan had been lost in action on his very first sortie. The girls were then expected to continue to school as normal.
H.M.S. LANDRAIL
Located 3 miles (5 km) northwest of Campbeltown on the western side of the Kintyre Peninsula,
Machrihanish is a former RAF air station, notable for its weather forecasts. The base had an exceptionally long runaway (3049m / 10,000 feet), together with a large number of technical buildings and accommodation.
Machrihanish was established as a naval air station in 1916, operating maritime patrol aircraft and airships until 1918.
A new airfield opened on 15 June 1941 as Strabane Naval Air Station, and named HMS Landrail, becoming RNAS Machrihanish later in the month and operated until 1946. The old airfield became HMS Landrail II.
As to HMS Landrail, she was one of the three busiest Front Line Air Stations in the country, being the home base for the disembarked squadrons from the escort carriers in the North Atlantic and Arctic convoy runs. It was here too that the largest-ever RN air squadron to form came into being, building up to 80-plus aircraft, Swordfish Its in an anti-submarine role; but before reaching its peak, it had to move over the water to Royal Naval Air Station Maydown (HMS Shrike) on the outskirts of Londonderry, where the headquarters of the MAC (Merchant Aircraft Carrier) Ships was situated.
It was 836 Squadron's sole purpose to supply the flights for those 19 ships, which were fast motor-tankers and grain-ships. Instead of normal superstructures, these ships had a flight-deck. They still carried their normal cargo of oil or grain, were still Merchant Navy-manned and Union-run, hence the air-crews' and the Flight personnel (the equivalent of an RAF ground-crew) having to sign on as Merchant seamen before sailing. The grain ships carried four aircraft, the tankers three. One group of these ships was from the Empire Shipping Line and bore names such as Empire MacAlpine, Empire MacCabe, etc. One of 836's Swordfish survived and is still around today as a member of the Fleet Air Arm's Historical Flight at RNAS Yeovilton (HMS Heron).
The Air Station was re-activated again during the Korean War for training purposes.
Between 1960-62, the base was reconstructed and the current runway built.
Thereafter the base developed in relation to NATO requirements during the Cold War, and was the focus of anti-submarine operations with US-controlled nuclear depth charges. A US Navy SEAL unit is also said to have been based here. £10 million was spent to upgrade the station in the early 1990s, keeping it on a care-and-maintenance basis to provide a runway for emergencies or in the event of conflict. The base remained a UK and NATO military base until 1997.
Campbeltown Airport
Between the wars a commercial aerodrome was established and is still operated by the government-owned Highlands and Islands Airports Limited operates with IATA location code "GQJ". It uses the same single runway which, at 3049m (10,000 feet), is the longest in Europe.
The terminal building are at the south-eastern end. There are scheduled flights to Glasgow.
Leading Airman
Royal Navy
H.M.S. Landrail
20
19/07/1944
FAA/JX. 394477
Commonwealth War Dead Bay 5, Panel 3. LEE-ON-SOLENT MEMORIAL
INFORMATION FROM THE INTERNET FREE BMD
Births Mar 1896
Cook Elsie Prestwich 8d 345
Marriage 1918
Cook Elsie Watson Prestwich 8d 510 Watson John L Cook Prestwich 8d 510
Births Mar 1924
Watson John B Cook Witney 3a 1737
These sites cover the ox18 area of Oxfordshire England, including the following villages, OX18, Alvescot, Bampton, Black Bourton, Burford, Broadwell, Carterton, Clanfield, Kelmscott, Kencot, Langford, Lechlade, RAF Broadwell, Shilton, Parish Pump, Oxfordshire Events,