THOMAS CHAMBERLAIN
lost at sea
S.S.Ancona
27th May 1917
Aged 59
In Memory of
Able Seaman THOMAS CHAMBERLAIN
S.S."ANCONA" (London), Mercantile Marine
who died age 59 on 27 May 1917 Son of Harriet Chamberlain and the late Thomas Chamberlain: husband of Mary Chamberlain (nee Hoe) of Carterton, Clanfield, Oxfordshire. Born at Dudley.
Remembered with honour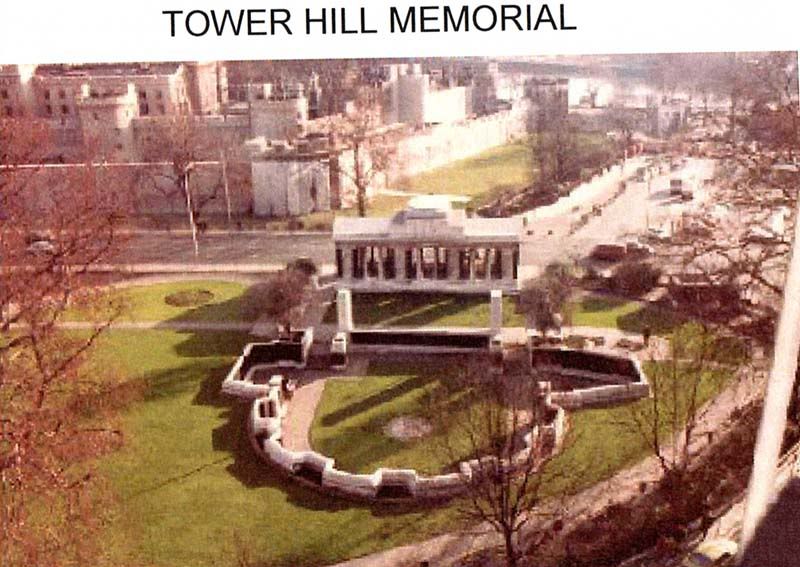 The Tower Hill Memorial commemorates men and women of the Merchant Navy and Fishing Fleets who died in both World Wars and who have no known grave. It stands on the south side of the garden of Trinity Square, London, close to the Tower of London.
THOMAS CHAMBERLAIN
From the Commonwealth War Graves Commission website it is known that his parents were Thomas Chamberlain born 1823 and Harriet Cooper born 1822 in Dudley, Staffordshire. They married in Dudley, near Wolverhampton in the West Midlands, in the September quarter of 1844.
Thomas was born in Dudley in 1858.
There is a death record for a Harriet Chamberlain in 1859 in Penkridge, Staffordshire.
Census records have failed to show a Harriet and Thomas or, if he was widowed, what happened to Thomas senior and the children from his marriage.
It was discovered that Thomas junior had been married in the March quarter of 1875, in Dudley, to Elizabeth Page.
From the 1881 census they were living in Horsley in Derbyshire where Thomas was working as a "irons miner".
It is unusual that no births or deaths of children seem to have been recorded in the following ten years. Nor has a death record been found for Elizabeth. It is probable that they divorced as there is a marriage of an Elizabeth Chamberlain recorded in Dudley in 1884.
Thomas also returned to Dudley and remarried in the December quarter of 1886.
His second wife was called Mary Hoe and she is named on the War Graves website. We know from information received that they had eleven children .
In 1891 they were living at Back of 77, Guild Street, Burton on Trent, Staffordshire, West Midlands with three sons aged three, two and ten months.
In the 1901 census Thomas, aged 43, was living at 76, Beech Lane, Stretton, Staffordshire. He worked as an Engine Driver, (stationary) probably in a factory.
The family spent some time living in Canada between 1907 and 1913. None of the family are listed in the 1911 census. They returned in 1913 as Thomas did not like Canada. They settled in Carterton. Thomas became a "smallholder". "A smallholding is a piece of land and its adjacent living quarters for the smallholder and stable for farm animals, on a smaller scale than that of a farm but larger than an allotment (http://www. ~eachinformation.com/define/Smallholding.aspx)
It is presumed that Thomas had been working as a sailor on passenger liners in the Merchant Navy, which is how they originally went to Canada. In the photo, taken pre 1907 he looks as though he was wearing his normal well worn work clothes.
On the 27th May 1917 Thomas was on board the S.S.Ancona, a cargo and passenger ship, sailing miles out in the Atlantic Ocean, approximately half way between the Island of Ushant on the north west tip of Spain and Lisbon in Portugal.
The ship was attacked and sunk by a German submarine with total loss of life.
Mary and five of the younger children left England in 1918 to start a new life in Canada.
LOSS OF THE ANCONA
The ANCONA was a 1,245 gross ton cargo ship, built 1898 for the Leith, Hull & Hamburg Steam Packet Co., Leith.
In 1911 she was sold to J. Hall & Co, London.
On 27th May 1917 she was torpedoed and sunk by the German submarine UC.70 while 110 miles SW from Ushant on voyage Falmouth to Lisbon and Spanish ports with general cargo.
There were no survivors
The SS Ancona, a popular Italian-American liner, which had been making frequent trips between Naples and New York since it had been launched from Glasgow in 1908.
Beginning in 1915, German U-boats were lurking in the Mediterranean with the intention of attacking allied war ships transporting troops and munitions to the European front.
However, according to ship manifests, when the Ancona left Naples on Saturday November 6th 1915, to make a brief stop at Messina, Sicily, she was carrying no guns or munitions.
On board were mostly women and children immigrants along with 83 first class passengers, 12 barrels of gold sovereigns, and a shipment of silver bars.
At 1:00 p. m. off the coast of Cape Carbonara, Sardinia, Captain Massardo spotted two white turrets and four guns from which flew a German flag, which was lowered and quickly replaced by an Austrian flag. Sensing danger, the captain ordered the ship full steam ahead.
What happened next depends upon who was telling the story.
In testimony given by the captain, the submarine fired a warning shot, at which point the captain immediately stopped his vessel. In spite of his compliance, the U-boat expelled two shots striking the Ancona both forward and aft.
As the Ancona radioed for help, an explosion resulted causing the liner to begin to sink rapidly before any life boats could be lowered. Later, German authorities would claim that the reason why the submarine attacked was precisely because the Ancona refused to stop.
( copied from www.merchantroyalshipwreck.com)
Then on the internet from Ontario, Canada
found on the "British Genealogy forum "dated
November 2008
Typing which is underlined are explanatory notes
Hi everyone - where could I get info on ships carrying wounded men —
Jessie Louise Chamberlain came to Canada on one called SS Gunnard in 1918 after Thomas Chamberlain (her father) was killed in 1917.
(They emigrated to Canada in 1918)
Jessie Chamberlain would have been 12/13 years old at the time - yes, her mother was Mary, maiden name HOE - Jessie had 10 brothers and sisters (by the looks of it she didn't travel with all of them) there was a Willie (William), Annie, Eleanor and Ida in her family (along with Arnold, Dorothy, Florence, Frederick, Theodora and Thomas Henry). Annie and Ida both died in Canada.
The family had lived there for 6 years from 1907
He was an Able Seaman on the SS ANCONA which sank on May 17, 1917. Is 59 years old - old for a seaman?
Jenny McBride ( Carterton U3A Family History Group) contacted Jackie Powell in Canada. She had been researching Thomas Chamberlain as he was the great grandfather of her husband Richard. She sent these photographs (circa 1905) which Jenny cleaned up and repaired.
INFORMATION FROM THE INTERNET

COMMONWEALTH WAR GRAVES
COMMISSION

The C.W.G.0 website gave his place of birth and his wife's name at the time of his death

FREE BMD

Marriages Sep quarter 1844 (Parents) CHAMBERLAIN Thomas Wolverhampton 17 334 COOPER Harriet Wolverhampton 17 334

1851 CENSUS — note spelling of surname CHAMBERLIN, Thomas Head Married M 28 1823 Screw Maker Birmingham Warwickshire CHAMBERLIN, Harriet Wife Married F 29 1822 Willenhall Staffordshire

CHAMBERLIN, Mary Daughter F 6 1845

Willenhall Staffordshire

CHAMBERLIN, William Son M 4 1847

Willenhall Staffordshire

CHAMBERLIN, Caroline Daughter F 3 1848 Willenhall Staffordshire
CHAMBERLIN, Lucy Daughter F 1 1850
Willenhall Staffordshire
RG number:H0107 Piece:2020 Folio:505 Page:10 Registration District:Wolverhampton Sub District: Willenhall EnumerationDistrict:2N Ecclesiastical Parish:Holy Trinity—Civil Parish: Municipal
Borough:Wolverhampton
Address:Monmore Lane, Wolverhampton County:Staffordshire
POSSIBLE DEATH RECORD FOR THOMAS'S MOTHER
I )oaths Dec 1859
Chamberlain Harriet Penkridge 6b 247
FREE BMD
Surname First name(s) District Vol Marriages Mar quarter 1875
CHAMBERLAIN Thomas Dudley 6c 19 PAGE Elizabeth Dudley 6c 19
1881 CENSUS I lousehold:
Name Relation Marital Status Gender Age Birthplace Occupation Disability
Thomas CHAMBERLAIN Head M Male 25 Dudley, Stafford, England Irons Miner
Elizabeth CHAMBERLAIN Wife M Female 26 Dudley, Stafford, England
Other Information:
Birth Year <1856>
Birthplace Dudley, Stafford, England
Age 25
Occupation Irons Miner
Marital Status M <Married>
Head of Household Thomas CHAMBERLAIN
Dwelling Chapel St
Census Place Horsley, Derby, England
FREE BMD
Marriages Dec quarter 1886
Chamberlain Thomas Burton 6b 535 Dudley, West Midlands
Hoe Mary Burton On Trent 6b 535
THOMAS CHAMBERLAIN Male
Event(s): Marriages: Spouse: MARY HOE Marriage: 14 NOV 1886 Saint Georges,
Darlaston Near Wolverhampton, Stafford, England
1891 CENSUS
CHAMBERLAIN, Thomas Head Married M 31 1860 Engine Driver Stationary
Dudley Worcestershire
CHAMBERLAIN, Mary Wife Married F 24 1867 Burton Staffordshire
CHAMBERLAIN, Thomas H Son M 3 1888 Burton Staffordshire
CHAMBERLAIN, Arnold G Son M 2 1889 Burton Staffordshire
CHAMBERLAIN, Frederick C Son M 0 (10M) 1891 Burton Staffordshire
RG number:RG12 Piece:2201 Folio:129 Page:23 Registration District: Burton upon Trent Sub District: - Burton upon Trent Enumeration District:7 Ecclesiastical Parish:St Modwen Civil Parish: Burton upon Trent Municipal Borough:Burton upon Trent
Address: Back Of 77, Guild Street, Burton Upon Trent, Barton-Under-Needwood County: Staffordshire
1901 CENSUS
CHAMBERLAIN, Thomas Head Married M 43 1858 Engine Driver (Stationary) Dudley Worcestershire
CHAMBERLAIN, Mary Wife Married F 34 1867 Burton Staffordshire
CHAMBERLAIN, Thomas Son Single M 13 1888 Waggoners Lad Farm
Burton Staffordshire
CHAMBERLAIN, Arnold Son Single M 12 1889 Burton Staffordshire
CHAMBERLAIN, Frederick Son M 10 1891 Burton Staffordshire
CHAMBERLAIN, Dora Daughter F 8 1893 Stretton Staffordshire
CHAMBERLAIN, Dorothy Daughter F 7 1894 Stretton Staffordshire
CHAMBERLAIN, Mary Daughter F 4 1897 Stretton Staffordshire
RG number:RG13 Piece:2641 Folio:92 Page:8 Registration District:Burton upon Trent Sub District: Burton upon Trent EnumerationDistrict:43 Ecclesiastical Parish:Stretton cum Wetmoor St Marys Civil Parish:Stretton Municipal Borough: Address:76, Beech Lane, Stretton County: Staffordshire
Transcript of the passenger list , departure date 23rd February 1918 showing Mary Chamberlain and the five youngest children emigrating to Canada.
passenger transcript details

Mama:

Date of departure:

Port of departure:

Passenger destination port:

Passenger destination:

Date of Birth:

Age:

Mantel status:

Sex:

Occupation:

Passenger recorded on:

Mary CHAMBERLAIN

23 February 1916

Liverpool

Halifax, Canada

Halifax. Canada

1668 (calculated from age)

SO

Female

Wlfe

Page 10 of 31

The following people with the same last name travelled on this voyage: -

Annie CHAMBERLAIN

Eda CHAMBERLAIN

Eleanor CHAMBERLAIN

Jessie CHAMBERLAIN

Willie CHAMBERLAIN

Page 10 of 31

Page 10 of 31

Page 10 of 31

Page 10 of 31

Page 10 of 31

Ship:

WOOOFORD

136705

Official Number;

Master's

G C Evans

name:

Line;

Canadian Pacific Railway Atlantic

Steamship

Steamship Line

Where bound.,

Halifax, Canada

Square feet:

Registered tonnage:

7727

Passengers on voyage:




921
These sites cover the ox18 area of Oxfordshire England, including the following villages, OX18, Alvescot, Bampton, Black Bourton, Burford, Broadwell, Carterton, Clanfield, Kelmscott, Kencot, Langford, Lechlade, RAF Broadwell, Shilton, Parish Pump, Oxfordshire Events,